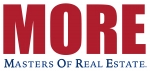 STL Open House Report
Jefferson County Open Houses
Prepared By:
MORE, REALTORS




314.414.6000

-

info@STLRE.com




StLouisRealEstateSearch.com
MORE, REALTORS, If you are a buyer, you can count on us to represent you in a professional manner and look out for your best interest every step of the way! We will educate you on the process so that you can move forward in the process with confidence. We educate you on the market using our "live" real-time market data we publish and will help you use that to make sure that you make the best deal possible when you buy without missing what could have been the perfect home for…

StLouisRealEstateSearch.com
314.414.6000
The above featured property(ies) may not be listed by the office/agent presenting this report. All information herein has not been verified and is not guaranteed.
Information from Third Parties, Deemed Reliable but Not Verified. MORE may not always display the entire IDX database of MARIS.
Copyright © 2018 MORE, REALTORS. All rights reserved.